This new collection of more than 200 quotations from
A Course in Miracles
is the long-awaited sequel to the popular
Wisdom from A Course in Miracles
cards first introduced more than thirty-five years ago. The quotes in this set are completely different from those found in the Wisdom Cards set. You can pick a card as a thought for the day, pass them around as "dessert" cards after dinner, or include one in a note to a friend. Each card measures 2 1/2 by 3 3/4 inches.
Packaged in an attractive box that can be used for display.
(The quotations are unique to this box and not duplicated in the companion set,
Wisdom from A Course in Miracles
)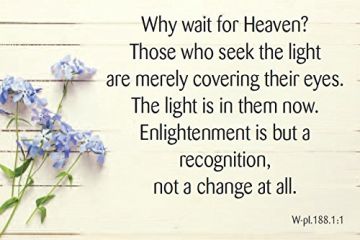 See More Sample Cards
Proceeds from your purchases fund the many free services we provide as a 501(c)(3) non-profit organization founded in 1978 to extend the principles of A Course in Miracles.